Vixen is a vampire hunting vampire. She has a custom voice, custom outfit and face. She can be found at the Northwatch keep just waiting for you to be rescued. She is a bit of a glass cannon as she is deadly, but not super tough. Mostly using magic, she will also duel wield if given a chance. She works for the Dawnguard and was sent to help you. She will reference her boss sometimes if you listen. She was captured by the Thalmor, like i said, a glass cannon. Powerful, but cant take a huge amount of a beating. Stop reading this and go save her!
What is Included in this package?
HiPoly Head.
Bodyslide Face.
Bodyslide outfit
Added a patch to work with SchakenFM (Coming Soon)
Custom Voice.
Northwatch Keep
(Just before you get to Harkons castle)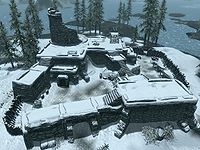 Follower :: True
Essential :: True
Voice :: Custom
Race :: Vixen Race (Based on Nord)
Spells :: Vampiric Invisibility, Vampire resistances, Drain Life, Bats 
Perks :: Savage Strike, Fighting Stance, Magic Resistance, Recovery, Regeneration, Well Fitted, 
Hack and Slash, Mage Armor, Critical Shot, Duel Flurry.
Skills :: Speechcraft, Light Armor, Smithing,
Block, One handed, Two handed.
Assistance :: Helps Friends and Allies
Confidence :: Fool Hardy
Crime :: Violence against enemies
Mood :: Angry
Height :: 93%
Disclaimer (Click Here)
My favorite part about having a Video Game. ITS NOT REAL! If this mod offends you and makes you panic and hate me forever, then simply pretend it doesnt exist, and dont download it. I do not force anyone to download these mods. It is up to you to decide if you want it or not. If you do want this mod, then click the download, and install. Please forward your complaints and hate mail to: [email protected] We will be glad to file these complaints in the proper trash can with all the others.
Discord == Schaken-ModsChat == Steam
---
What's New in Version
1.1
See changelog
Released
===== 1.1 =====
updated for the features of SchakenFM (Hair color changes now)
@Meancharger - Giving me the Racemenu FaceGen to make this mod with.
"Victoria Velina" for the voice
MUST ASK for permission to be hosted on other sites.
MUST ASK for permission to use assets from this mod
MUST ASK for permission to convert this to other games.
None - No permissions allowed.