This mod was ported from LE to SE, Original Link: HERE

In the original version, she was found in the college of winterhold. standing there.... the end.

SO.. I placed her in the Battleborn Farmhouse, now she has a family, her own bed to sleep in, and mostly does whatever her mom does. While her mom is outside working, Yooa will be found inside playing, much like real life. When she goes to Whiterun, Yooa tags along, I did try to make her immersive mostly. She can be a follower if you choose, and if you do she has alot of magic fighting skills. I included my Steam outfit as it looked appropriate.
What is Included in this package?
HiPoly Head.
Bodyslide Face.
Bodyslide outfit
Added a patch to work with

SchakenFM

(WITH

SchakenFM

) you can change her hair color.
ESPFE Plugin (Like an ESL, dont take a load order slot)
Battleborn Farm
(East of Whiterun just outside of wall)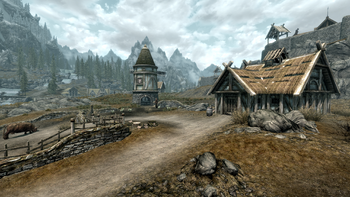 Follower :: True
Essential :: True
Voice :: Female Child
Race :: Custom race (Based on Nord)
Spells :: Lightening Bolt, Healing Hands, Chain lightening, Sparks and Lightening Bolt
Perks :: Regeneration, Mage Armor,
Skills :: Restoration, Destruction, Two-Handed, One-Handed, Alteration, Sneak
Assistance :: Helps Friends and Allies
Confidence :: Fool Hardy
Crime :: Any Crime
Mood :: Neutral
Height :: 70%
Disclaimer (Click Here)
My favorite part about having a Video Game. ITS NOT REAL! If this mod offends you and makes you panic and hate me forever, then simply pretend it doesnt exist, and dont download it. I do not force anyone to download these mods. It is up to you to decide if you want it or not. If you do want this mod, then click the download, and install. Please forward your complaints and hate mail to: [email protected] We will be glad to file these complaints in the proper trash can with all the others.
Discord == Schaken-ModsChat == Steam
---
What's New in Version
1.0
See changelog
Released
No changelog available for this version.
I sadly do not know who the original author was, I struggle translating the text properly. But in description, i supplied the link to the page so you can see for yourself.
None - No permissions allowed.