This is Kiirvey She is half dragon, half killing machine! She has animated dragon wings that do blend very nicely. Her outfit is made up of a Giants and a Draugr.
What is Included in this package?
HiPoly Head.
Bodyslide Face.
Bodyslide outfit
Works with

SchakenFM

(WITH

SchakenFM

) you can change her hair color.
ESPFE Plugin (Like an ESL, dont take a load order slot)
Autumnwatch Tower
(Wandering around)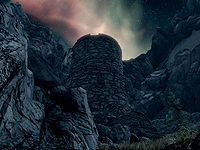 Follower :: True
Essential :: True
Voice :: Female Child
Race :: Custom race (Based on Nord)
Spells :: Revenant, Wards, Summon dragon, Thunder bolt, Conjure Mistman
Perks :: Duel Conjuration, Necromancy, Custom Fit, Unhindered, Magic resist
Skills ::  Conjuration, Destruction, one handed
Assistance :: Helps Friends and Allies
Confidence :: Average
Crime :: Any Crime
Mood :: Neutral
Height :: 78%
Disclaimer (Click Here)
My favorite part about having a Video Game. ITS NOT REAL! If this mod offends you and makes you panic and hate me forever, then simply pretend it doesnt exist, and dont download it. I do not force anyone to download these mods. It is up to you to decide if you want it or not. If you do want this mod, then click the download, and install. Please forward your complaints and hate mail to: [email protected] We will be glad to file these complaints in the proper trash can with all the others.
Discord == Schaken-ModsChat == Steam
---
What's New in Version
1.0
See changelog
Released
No changelog available for this version.
None - No permissions allowed.