This is Farith, A vampire follower. She is located in Broken Fang Cave. There is a Gargoyle demon Pinemoon Cave that has her "Sigil of Abyss" that she needs in order to become a a Vampire Lord.
She can transform into a Vampire Lord ONLY in there conditions: 
1.Farith has to have the Sigil of Abyss
2.Night or Interior or Eclipse
3.Health 50% or less
4.has to be your follower.
What is Included in this package?
Added a patch to work with

SchakenFM

(WITH

SchakenFM

) you can change her hair color.
ESPFE Plugin (Like an ESL, dont take a load order slot)
SHE is in Broken Fang Cave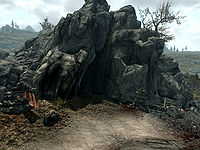 Follower :: True
Essential :: True
Voice :: Female Child
Perks :: Stealth, Agile Defender, Custom Fit, Unhindered, Wind Walker, Matching Set, Armsman,
Bladesman, Hack and Slash, Bone Breaker, Dual Flurry, Dual Savagery, Fighting Stance,
Critical Charge, Savage Strike, Overdraw, Critical Shot, Power Shot, Ranger, Quick Shot
Skills ::  One Handed(Normal), Two Handed(Slow), Archery(Normal), Heavy Armor(Slow), 
Light Armor(Normal), Lockpicking(Slow), Sneak(Fast), Speech(Slow)
Disclaimer (Click Here)
My favorite part about having a Video Game. ITS NOT REAL! If this mod offends you and makes you panic and hate me forever, then simply pretend it doesnt exist, and dont download it. I do not force anyone to download these mods. It is up to you to decide if you want it or not. If you do want this mod, then click the download, and install. Please forward your complaints and hate mail to: [email protected] We will be glad to file these complaints in the proper trash can with all the others.
Discord == Schaken-ModsChat == Steam
---
What's New in Version
1.1
See changelog
Released
===== 1.2 =====
Updated the description.
Packed everything into a BSA to save you disc space. Nothing in game changed.
===== 1.1 =====
Fixed the vampire lord outfit.
Changed the skin and body to CBBE
None - No permissions allowed.