Sinyra Follower. You can find her at RannveigFast location. I took the outfits from falmers and remeshed them to create what she wears.

REQUIREMENT: NPC MASTER
What is Included in this package?
Added a patch to work with

SchakenFM

(WITH

SchakenFM

) you can change her hair color.
ESPFE Plugin (Like an ESL, dont take a load order slot)
High Poly head
High poly teeth, and eyes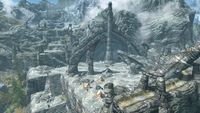 Follower :: True
Essential :: True
Voice :: Female Child
Perks :: Magic Resistance, Disarm Bash, Deflect Arrows, Elemental Protection, shield charge,
Arms man, Shield Wall, Stealth, Silence, Block Runner
Spells :: Fast Healing, Steadfast Ward
Skills ::  One Handed(Normal), Two Handed(Slow), Smithing, 
Light Armor(Normal), Blocking
Confidence :: Foolhardy
Aggression :: Aggressive
Crime :: Any Crime
Disclaimer (Click Here)
My favorite part about having a Video Game. ITS NOT REAL! If this mod offends you and makes you panic and hate me forever, then simply pretend it doesnt exist, and dont download it. I do not force anyone to download these mods. It is up to you to decide if you want it or not. If you do want this mod, then click the download, and install. Please forward your complaints and hate mail to: [email protected] We will be glad to file these complaints in the proper trash can with all the others.
Discord == Schaken-ModsChat == Steam
---
What's New in Version
1.0
See changelog
Released
No changelog available for this version.
MUST ASK for permission to be hosted on other sites.
MUST ASK for permission to use assets from this mod
MUST ASK for permission to convert this to other games.
None - No permissions allowed.