Wen Follower. You can find her at Mistveil Keep. The outfit i got from a pack, So i apologize to the author who created it, I altered it a lot, so if anyone knows who made the original, i would love to give them credit.

REQUIREMENT: NPC MASTER
What is Included in this package?
Added a patch to work with

SchakenFM

(WITH

SchakenFM

) you can change her hair color.
ESPFE Plugin (Like an ESL, dont take a load order slot)
High Poly head
High poly teeth, and eyes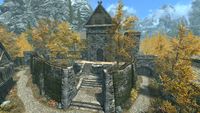 Follower :: True
Essential :: True
Voice :: Female Child
Perks :: Magic Resistance, Fighting stance, Ranger, Bulls eye, Armsmen, Overdraw, Savage Blows, 
Critical Shot, Silence, Silent Roll, Dual Savagery
Spells :: None
Skills ::  One Handed(Normal), Marksman, Sneaking, 
Heavy Armor(Normal), Two Handed
Confidence :: Brave
Aggression :: Aggressive
Crime :: Any Crime
Disclaimer (Click Here)
My favorite part about having a Video Game. ITS NOT REAL! If this mod offends you and makes you panic and hate me forever, then simply pretend it doesnt exist, and dont download it. I do not force anyone to download these mods. It is up to you to decide if you want it or not. If you do want this mod, then click the download, and install. Please forward your complaints and hate mail to: [email protected] We will be glad to file these complaints in the proper trash can with all the others.
Discord == Schaken-ModsChat == Steam
---
What's New in Version
1.1
See changelog
Released
===== 1.1 =====
Fixed the Install errors. (OOPS!)
@1starlight for screenshots
Whoever made that outfit originally, if anyone knows, please post, ill put credit here.
MUST ASK for permission to be hosted on other sites.
MUST ASK for permission to use assets from this mod
MUST ASK for permission to convert this to other games.
None - No permissions allowed.