This is a SE port (Original Mod)
The Mane is the formal title given to the nonpartisan spiritual leader and ruler of Elsweyr and the Khajiit people. 
Sometimes, they are successful in bringing temporary peace to the province; however, this does not last very long.
 
Change log:
Ported from LE to SE, optimized textures and meshes, ESPFE the plugin.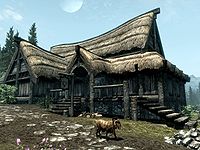 Disclaimer (Click Here)
My favorite part about having a Video Game. ITS NOT REAL! If this mod offends you and makes you panic and hate me forever, then simply pretend it doesnt exist, and dont download it. I do not force anyone to download these mods. It is up to you to decide if you want it or not. If you do want this mod, then click the download, and install. Please forward your complaints and hate mail to: [email protected] We will be glad to file these complaints in the proper trash can with all the others.
Discord == Schaken-ModsChat == Steam
---
What's New in Version
1.0
See changelog
Released
No changelog available for this version.
Muscular Khajiit Textures by Khajiitas  ShinglesCat
Ronzo in Skyrim by kazumamqj
Catlike Khajiit by zalunaya
Lion Race WIP by Dreamburrow (Eye textures)
Lykaios Race - Legacy Version -by KrattaKitty (Beast Hands)
CoverKhajiits by mrLenski
Khajiit Hair by Saerileth (Hair Textures)
None - No permissions allowed.