Kriv Alansen Standalone Follower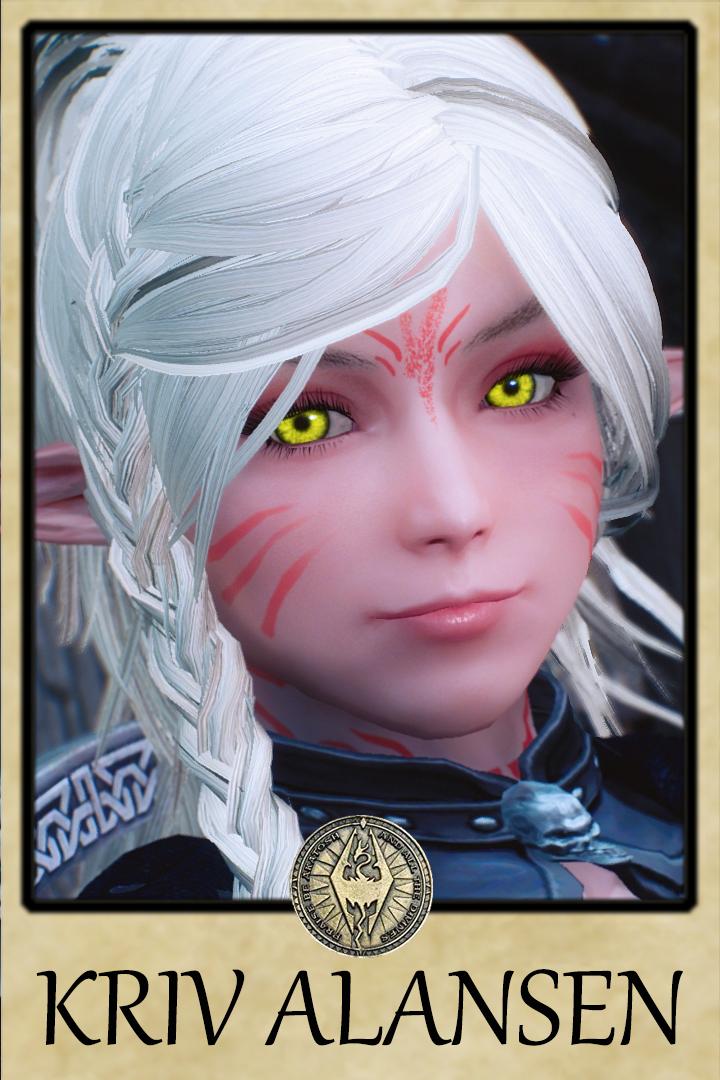 ------ Contents ------ 




INTRODUCTIONS


Hello and welcome to Kriv Alansen Standalone Follower mod! In this document, we will go 
through some information about the follower, the requirements needed for this mod, 
installation process, troubleshooting some known bugs, permissions and credits. If there are 
any problem with this mod that is not documented here, please contact me @RayzarSkyrim 
over on Twitter or Rayzar#3055 on Discord. 




Character's Information 


Kriv Alansen is a lone elven mercenary hailing from Summerset Isle. Since she lacks the 
magicka affinity that all other Altmer has, she compensates with physical force from her 
greatsword and greatbow, her trusted companions on the long wandering roads.  
Born and grown in a family whose specialty is in all thing magic, it comes to their surprise that 
their daughter doesn't have any magicka aptitude like her peers. She shows interest only in 
arms rather than scrolls. Her failure as an Altmer leads her through early life full of ridicule, 
mockery and the eventual disownment by her family.   
Fortunately, Kriv found her way into the Fighters Guild. At first, they assign her only the duty 
of a janitor with promise of 2 meals a day. Through learning from guild members' training 
sessions, she starts training on her free time and eventually proving herself to be suitable as an 
official member by completing low level tasks on her own. 
Through years, she worked her way up to the rank of Guardian. She garners both respect and 
contempt from members within the Guild. One day, a plot to kill one of the higher rank guild 
members through poisoning failed. She was then accused of attempting murder with evidence 
planted on her. This devious ploy sees her chased out of the Guild and became the wandering 
mercenary she is now known as. 

As the Civil War between the Imperial Army and the Stormcloak Rebels rages on, the need for 
more men and arms rise to an unprecedented level. It is common for either side to hire 
independent mercenaries from all walks of life to perform various tasks, be it raiding camps, 
sabotaging strongholds or discrete ambushes. Seeing such an opportunity to make money out 
of the conflict, she moved to Skyrim looking for works that suit her best: Leading ambushes. 
The constant state of war would surely tire one out on the battlefield, thus the need for a comfy 
lodge. Kriv currently resides in Vilemyr Inn, Ivarstead when the civil war comes to a halt thanks 
to the Dragonborn's efforts. With her pocket full of coins and a comfortable inn, boredom 
ensues. Though, she wouldn't turn down an adventure around Skyrim during peace time… 



Requirements 


While Kriv Alansen is a standalone follower, there are a few requirements you'll need to get the 
full experience: 
- HDT Skinned Mesh Physics and/or HDT Physics Extension (HDT SMP is already included in the mod).
- Any follower management mod, Extensible Follower Framework is recommended.
- Disable Follower Collision  (Optional but recommended) 
 


Installation Process 


Please install the required mods first then this mod with your favorite mod manager. There will 
be a few extra steps needed to complete the process. 
Kriv Alansen have full HDT PE hair and her main outfit is using a SMP cape, you obviously will 
need both for her. You must install HDT PE first and its requirements before proceeding. 
 I've included an alternative armor set for her named Melkia Vaina which only need HDT PE in 
case you don't want her to use the main outfit, which is understandable due to some 
performance issues you may have depending on your hardware. You may skip the rest if you 
chose to not use her main outfit. 
First, install OpenCL runtime environment. Use software like GPU-Z to check if your GPU 
supports OpenCL If your system already has it, skip this step. 
Next, navigate to INSTALL IN SKYRIM FOLDER folder, inside you will find a file called 
d3dcompiler_47.dll. This is the library file for HDT Skinned Mesh Physics. 
 
Then copy and paste this file into your Skyrim root folder, where all things ENB and such go 
there. 
And that's it, she should be in your Skyrim with flowing full body cape! 


Optional Contents 


I've included an optional SMP CUUNP body inside the Optional folder. This body is essentially 
CUUNP but with HDT SMP 3 bones breasts implemented for bouncier and more realistic 
breasts physics. Just simply copy the content within that folder and replace the original mod's 
content with them. If you are already using SMP-PE physics, this could be a great addition for 
you. 


 There is also a SMP-PE for dummies setup folder which contains all the HDT PE and HDT SMP 
settings made to be compatible with each other. If you already have a working SMP-PE setup, 
you most likely won't need it.  
Optional hair mesh: For in case where the ENB makes her hair appear darker than intended


Troubleshooting and known bugs 


- Sometimes, when transition between cells or unequipping Kriv's armor, her hair will get 
stuck in the air. This can be fixed by giving her a full helmet and equip her with it (the 
ones that remove the hair entirely) then take it back. This should reload her hair physics. 
The same can be applied to her optional SMP CUUNP body but this is rare so no 
worries. - There is a considerable performance drop when she is fighting in her cape outfit, usually 
around 5 to 14 FPS dip due to how SMP physics is calculated. For gameplay purposes, 
please use her Melkia Vaina set. - If for some reason, even with HDT SMP installed and the cape isn't working, please 
make sure that nothing is overwriting the existing HDT SMP configs from this mod. 
- Under no circumstances should you create a copy of her through console command. 
Some have reported that when they attempt to spawn Kriv, that copy of her becomes 
invisible. If you manage to recruit her as your follower, the real one will make her way to 
you fully visible. This could result in unpredictable game breaking bugs so I recommend 
you to either fast travel to Vilemyr Inn in Ivarstead to recruit her or just use coc 
IvarsteadVilemyrInn to teleport there and do the same. - Regarding duplicate hair issue that some may have, I haven't found a fix for it yet but 
they seem to be working fine with no additional performance loss. Double the coolness 
stat, I guess? 



Permissions 


- All the assets created and used in this mod are from other FREE mods and are properly 
credited within the Credits section. As such, using anything from this mod for any form 
of monetary or material gains (direct purchase, Patreon donations, Creation Club, etc…) 
is strictly forbidden. - All assets within this mod is modifiable for personal use only. As most of the mods used 
are available for free on Nexus or other sites, you should go and download the original. - If someone is asking you to share the mod, please link them directly to the pinned tweet 
I made specifically to share this mod. - You may upload this mod to any file hosting service for storage purpose only. You can 
only share it by contacting me first for permission if: • The original download link is broken and/or no longer working. In this 
case, sharing limit is lifted until new link is available. • The mod's tweet and/or download link is inaccessible in some region or 
country. This mod can be shared within these areas using your local file 
hosting service. - If you want to port her to Special Edition, please contact me first via DM through 
@RayzarSkyrim on Twitter or Rayzar#3055 on Discord for permission and quality 
assurance before public release. 


---
Big thanks to:  
- Keda#0334 on Discord for helping me out while working on this mod.
- Fair Skin Complexion by HHaleyy.
- PureSkinTexture by Anini & Regenbot03.
- The Coenaculi - RaceMenu Plugin for Tattoos by Desufire.
- Dint's HDT Hairs 1.50 by Dint999.
- Spectral Shades
- Eyes by Krisan Thyme.
- SG Female Brows by HelloSanta.
- LadyHorus' TERA Armor Collection on LoversLab (Rogue Elite set).
- Ebony Bikini Armor by nisetanaka (Misc. armor pieces).
- Cainhurst Knight Armor Set by full_inu (SMP Cape).
- GLENMORIL by Vicn (Greatsword assets).
- Dark Souls 3 Weapon Pack by Nameless God (Greatbow assets).
- Melkia Vaina armor by NINI  
- 44Bikini by ???  
- HDT Physics Extension and HDT Skinned Mesh Physics by HydrogensaysHDT.