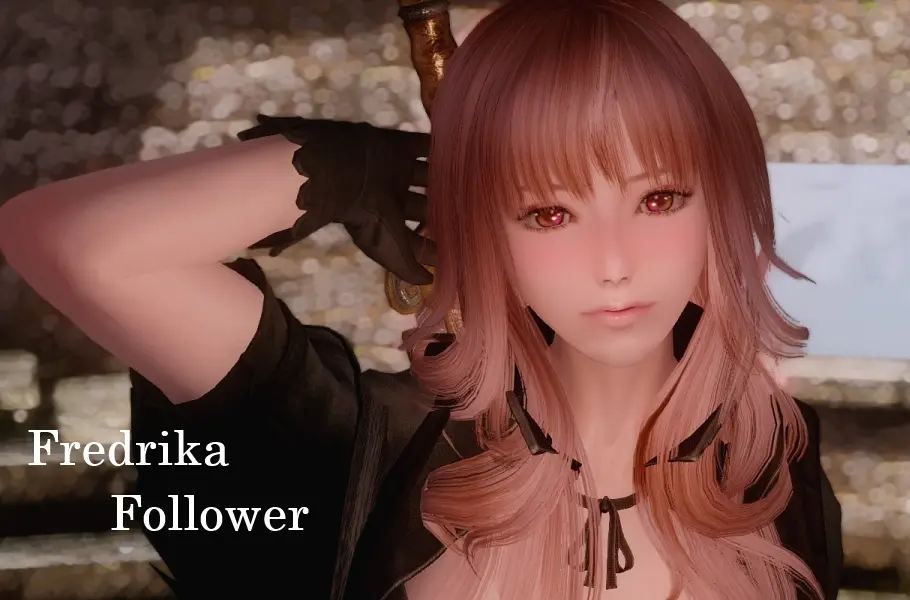 <This Mod...>
Add a Standalone follower, Fredrika.
You can find her Bards College in Solitude.
Need Dawnguard DLC.
Schaken's Follower Manager Compatible
<Character>
Name : Fredrika

 
Voice  : Serana Voice (
FemaleYoungEager
 

and FemaleYoungEager)
If you Can not recruite her, choose "
FemaleYoungEager" or "
FemaleYoungEager" Voice type.
Body   : 3BA or CBBE(Weight:100)   
     Open console, select her and hit "setnpcweight 100"  -->  "disable" --> "enable"
      You can change her weight.
Place  : Bards College in Solitude.
Combat style :Cross Bow, 2HS, Bound 2HS,
Heal Spell.
 She uses heal spell when player health is under 50% and player is in combat.
         However, she can't use the spell during use "Bound Claymore".
  (Because She uses all Magicka for Bound Claymore) 
<Recommended Mods  (Screenshot and Video)>

 
HRK ENB TWO
 

by hrk1025
Face Light

 

by tktk
SIZE DOES MATTER - NPCs do not rescale shrink resize - less camera restrictions
 

by Mahlzeit88
---
What's New in Version
3.2
See changelog
Released
Version 3.2
Updated to ESPFE
Removed Non-English Voice Options
The assets can be used for other mods.
This can be converted to other games.