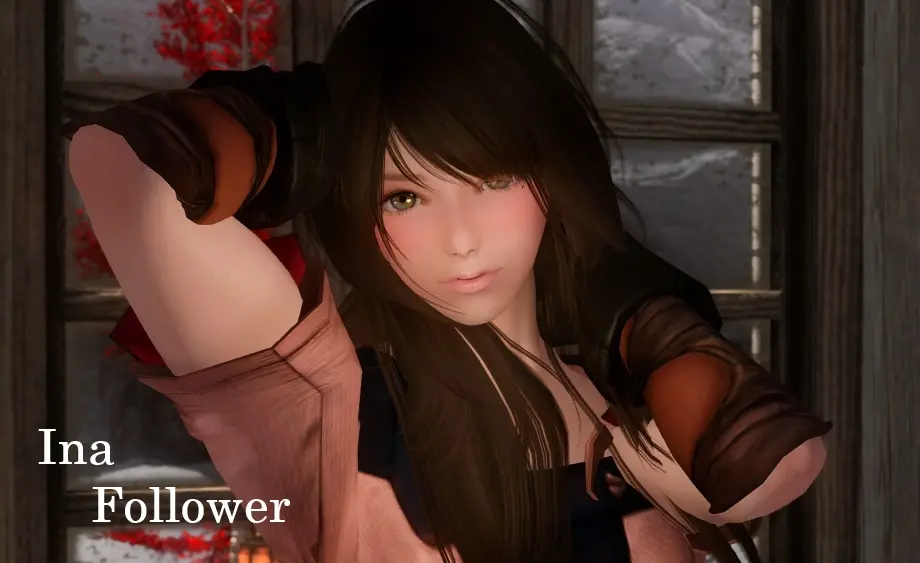 <This Mod...>
Add a Standalone follower, Ina.
You can find her at The Temple of Mara. (Located in Riften)
Require Dawnguard DLC.
Schaken's Follower Manager Compatible
<Character>
Name  : Ina

 
Body   : 3BA or CBBE (default armor is CBBE)
Weight: 50 or 100
Place  : The Temple of Mara in Riften.
Combat style :One handed sword, Shield and Sun-Fire spell.

 
                    Heal spell and Alteration spells(Custom AI.)
<Hair Style>
<Recommended Mods  (Screenshot and Video)>

 
HRK ENB TWO
 

by hrk1025
Face Light

 

by tktk
SIZE DOES MATTER - NPCs do not rescale shrink resize - less camera restrictions
 

by Mahlzeit88
---
What's New in Version
1.1
See changelog
Released
Version 1.1
Updated to ESPFE
The assets can be used for other mods.
This can be converted to other games.